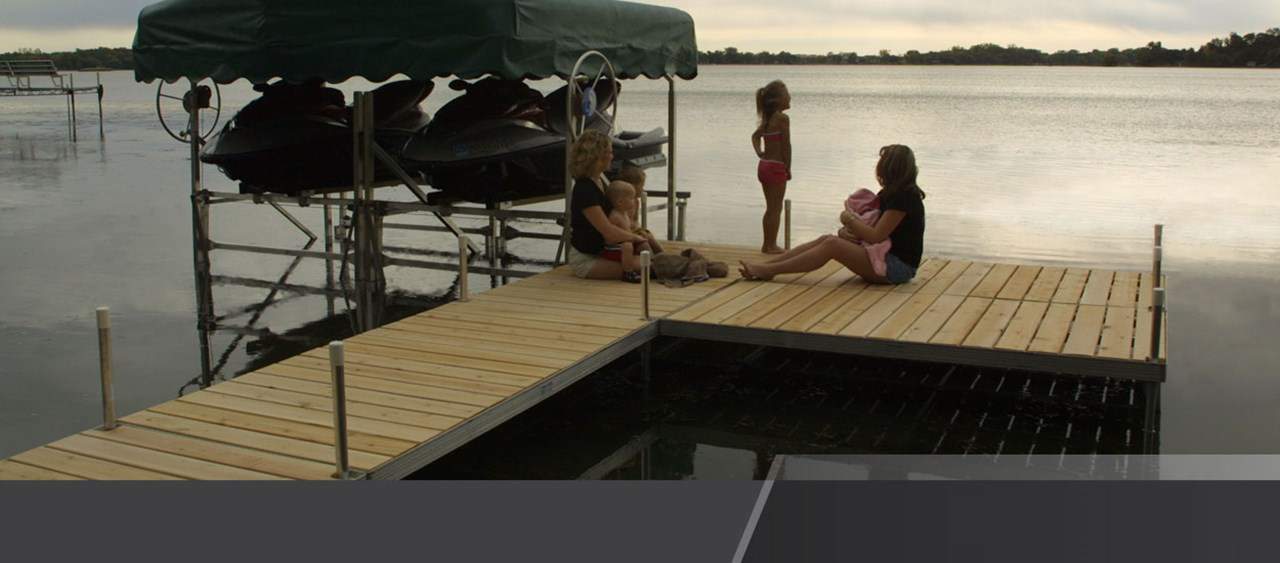 ROLL-A-DOCK
Let the good times roll – Setting the standard in portable dock design since 1971
Roll-A-Dock is simply the fastest and easiest way to get full enjoyment from your waterfront property. In cold climates, there's no need to endure frigid water – just roll it in and you're ready for action. Roll-A-Dock is ideally suited to gradual slopes and works equally well on soft or rocky bottoms. The roll in dock designs allows it to be easily placed using a vehicle or installed in a matter of minutes by as few as two people. It is the ultimate portable dock ideal for your waterfront property.

ULTRADOCK
Leading edge of dock innovation-Introducing the UltraDock
Need a tough dock like the Hewitt Roll-A-Dock but don't have the beachfront to roll it in for seasonal storage? Check out the new UltraDock from Hewitt. Like the Roll-A-Dock, the UltraDock frame is made from tube construction for the ultimate structural support and superior clean lines. It can also be quickly disassembled and tucked away for the winter without taking up a large amount of space. UltraDock's modular design makes adding on or changing the configuration easy. Choose from three sizes: 4'x8', 4'x12'and 4'x16'. Adjustable screw legs available in sizes ranging from small 24" to 34", medium 36" to 50" and large 54" to 87". 4'x8' sundecks available to make platforms and large sun deck.
CLASSIC DOCK
Exceptional Engineering Redefines the Sectional Dock
Hewitt Classic Dock offers the great appearance and flexibility of a post and plank dock in a high-strength modular system. The Classic is perfect for people who want to make the most of their recreational time. Large 4'x8', 4'x12', 4'x16' sections mean fewer parts for faster installation. Optional wheel kits are also available to aid placement and removal. Aluminum construction eliminates painting and requires little or no maintenance. Modular design also makes it easy to add on or change the configuration of your dock at any time.

VERS-A-DOCK
Uniquely Designed, Lightweight Modules for Easy Assembly
Hewitt Vers-A-Dock sectional dock systems offer many advantages over traditional post and plank docks. Modular components simplify setup, changes and removal. With smaller, lightweight frames and 4'x4' drop-in deck sections, one person can easily assemble an entire dock. A 4'x8' frame section weighs just 38 lbs (54 lbs with two poles attached), and deck sections are only 36 lbs each. Vers-A-Dock also features inside post mounts for a smooth side wall with no protruding parts that could damage boats. Vers-A-Docks require little or no maintenance.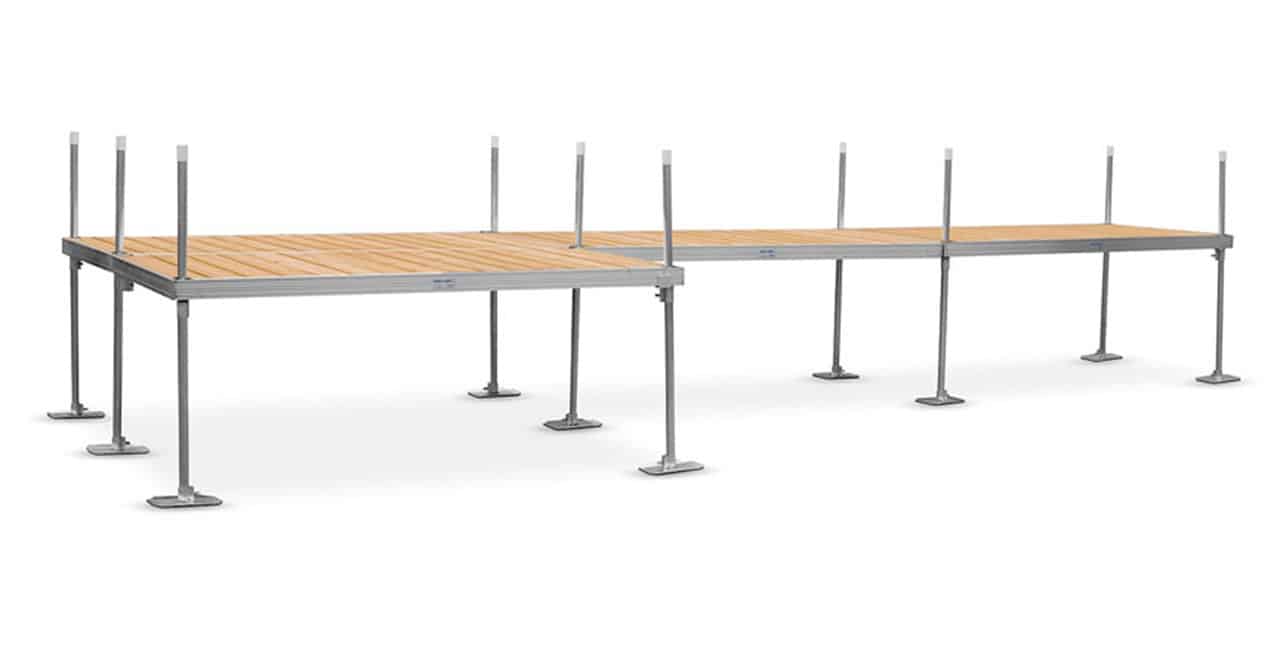 SECTIONAL DOCK
Economical modular post-and-plank system
Hewitt Sectional Dock Systems offer greater economy, quick setup and minimal maintenance. Frames and decking are pre-assembled in easy-to-handle modules. The aluminum sides wrap around the decking to maintain a crisp, clean appearance. Dock sections are 8' and 10' long and come in both 4' and 6' widths. Sections may be joined end-to-end or turned at right angles to form "L"s, "T"s, and platforms. Frames, poles and brackets are all made from rustproof, corrosion-resistant aluminum and never need painting.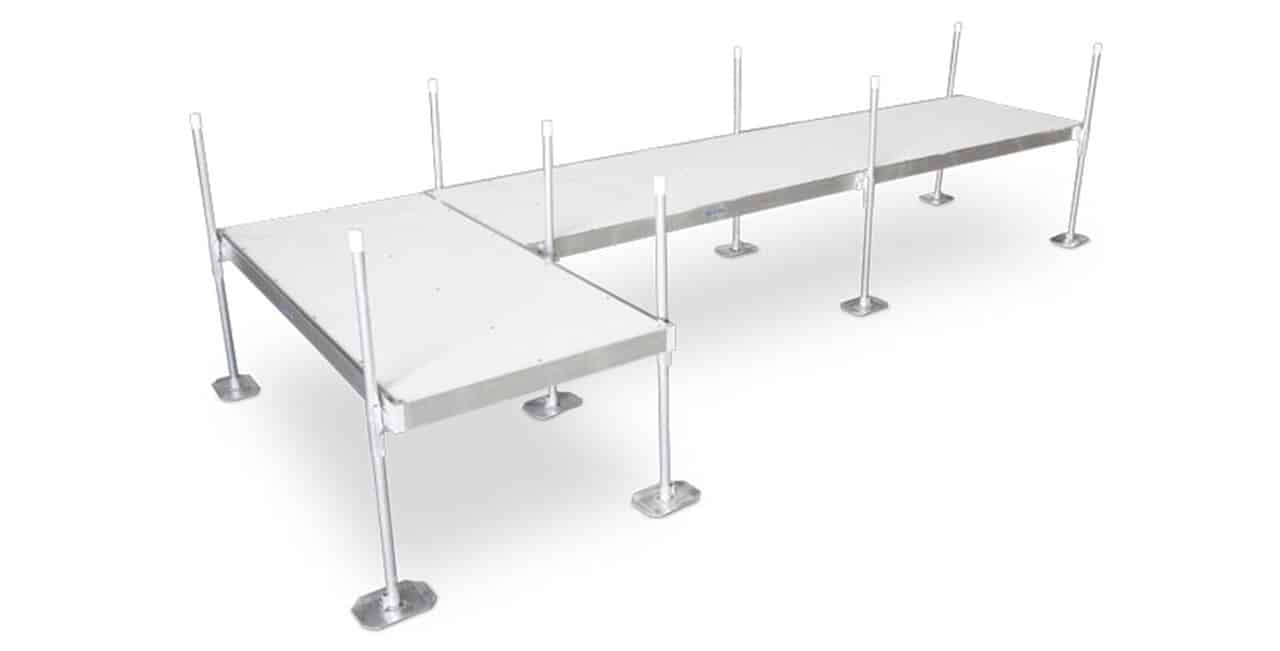 TRADITIONAL FLOATING
Commercial and residential floating dock sections for custom needs
Hewitt's floating dock sections are manufacturered in Minnesota, USA. They are made in sections, allowing them to be modular to fit into your dock design plans and customized to fit your area and needs. Therefore, it is perfect for both commercial and residential floating dock systems. Simply contact a local distributor with your specifications and we will make it happen!
The float dock section frames are made out of galvanized steel and aluminum, giving them comparable stregnth, durability, and corrosion resistance to a standard model. The floatation tanks are high-quality and configured based on any load requirement. The seciontional modular design allows us to create a dock to your requirements. They can have a width between 2′ – 8′ and a length between 4′ – 32′, with additional sections added onto the width or length to make it what you want. It has a streamlined appearance thanks to a 2″x4″ or 2″x5″ continuous sidewall design instead of an open truss design.
TRUSS FLOATING DOCK
Commercial-Quality Strength and Durability
The truss floating dock incorporates engineering principles proven in bridge and crane construction. The open framework design provides maximum strength with minimum weight and creates less wave resistance for superior stability. Heavy-duty structural support tubes are used at both the top and bottom of the side frames. The entire frame is reinforced with structural channel bracing and extra strong angle crossbars.
WAVE ARMOR DOCK
Wave Armor Dock: A Residential & Commercial Floating Dock Solution
Hewitt's Wave Armor Dock System is easy to assemble and infinitely modular, featuring paver-style textured decking, foam-core floats and a patented H-Beam Connection System. Simply put – Beautiful decks, solid floats, easy assembly and a full line of accessories and components.