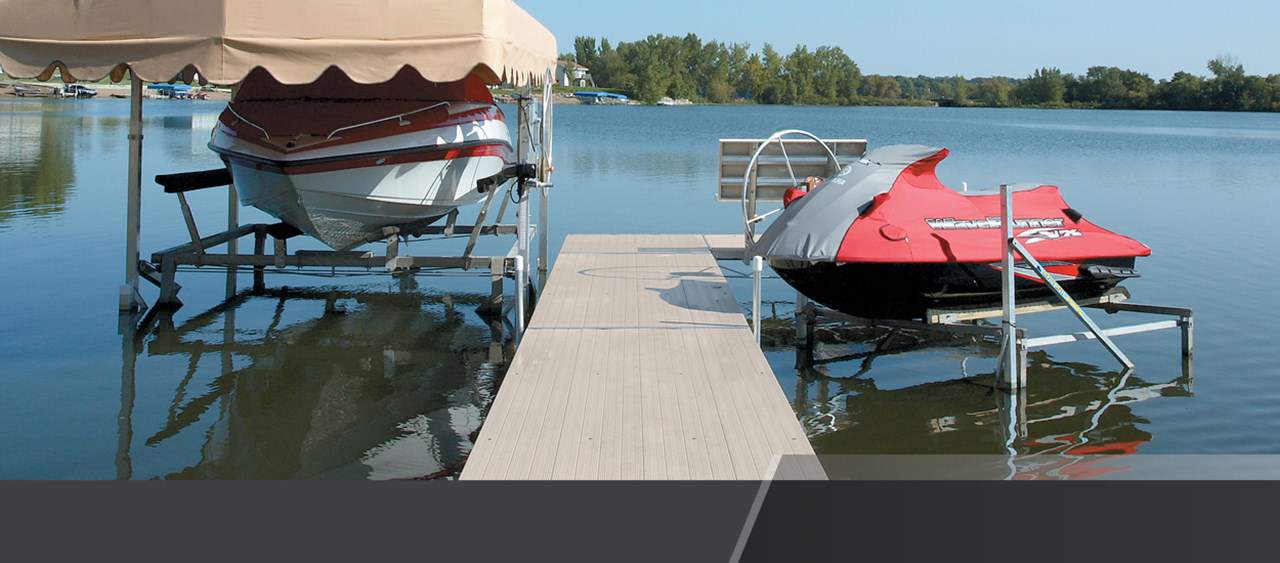 CANTILEVER BOAT & PONTOON LIFTS
The original Hewitt cantilever boat and pontoon lift continues to be one of our most popular models. These rugged general purpose lifts have a natural mechanical advantage that actually makes operation easier as the boat is raised higher. Cantilever lifts also have a long history of trouble-free performance. They require fewer moving parts for superior reliability and place less stress on pulleys and cables. In the lift's fully raised position, cables carry no weight; the load is entirely supported by the frame. Corrosion resistant aluminum construction also assures low maintenance – no rust, no painting. The cantilever lift design is ideal for boats and pontoons.
We have three operation styles available: electric with AC power, electric with DC battery power, and manual. A manual boat lift is the most cost effective and simple operation. It has an easy to use hand crank for the winch. An electric boat lift will do all the work for you by raising and lowering the boat with a winch. It is important to know your weight capacity for boat lift selection.
HYDRAULIC CANTILEVER
The Perfect Low-Water Lift Offering Effortless Operation
Imagine pressing a button on a key-fob remote control as you walk to your dock and having your boat in the water and ready to go when you arrive. That's the convenience and sophistication you get with a Hewitt hydraulic cantilever lift. Based on our standard cantilever design, these lifts can rest dockside in as little as 24" of water, perfect for use with shorter docks. Available in 3900 lb and 5200 lb capacity models. Hewitt hydraulic boatlifts are the shallowest boatlift in the industry since 2001 operating with water levels only 6" deep.
HI-LIFT VERTICAL LIFT
Straight Up, Straight Down – A Lift for Deep or Changing Water Levels
The Hewitt Hi-Lift is an economical, direct vertical rise lift ideally suited for deeper water applications or sites where water levels may fluctuate. These lifts are based on simple, proven technology but are distinguished by Hewitt's rock-solid construction and unique frame design, incorporating side bars that provide easier boat access and greater stability than typical "V"-style designs. While the competition's adjustable side bars limit maximum lift height, Hewitt's twelve different Hi-Lift models provide lifting capacities ranging from 1100 lbs to 10,000 lbs.
HYDRAULIC BOAT & PONTOON LIFT
The Ultimate for Speed, Convenience and Lifting Capacity
Hewitt hydraulic boat & pontoon lifts offer the push-button convenience and remote control operation of our standard cantilever hydraulic models, plus faster cycle times and higher capacities. The lifting capacity ranges from 4400 lbs to a massive 24,100 lbs. All lifts have corrosion-resistant, all-aluminum frames and include a locking, water-resistant chest for housing the hydraulic pump and control system. With optional bracing and leg kits, these lifts can be used in water up to 10' deep. All sizes are available in 220V AC and 12V or 24V DC battery powered models. A wide range of optional equipment is also available, including solar cell battery chargers, lighting kits, pump box stand, canopies and more. Lift heights for all models is 77-1/2" with the exception of Models 4400 and 6100, which are available in 54" and 76" lift heights. Hewitt hydraulic lifts are engineered to raise their maximum rated loads through their full arc of travel without hesitation. Hydraulics are optimized to provide the fastest operating speed in the industry without increasing pressure and over-stressing the pump. Thanks to our wide lifting range, we have hydraulic PWC lifts, hydraulic boat lifts, and hydraulic pontoon lifts for all of your lifting needs.
HYDRAULIC LARGE CAPACITY
Heavyweight Class Takes Watercraft to a Whole New Level
The Hewitt 12,100 lb, 18,100 lb and 24,100 lb models are a special class of hydraulic lifts. Designed to provide superior stability for large craft while retaining the speed and convenient operation of our smaller lifts, these models add a larger capacity hydraulic pump, heavier gauge aluminum and extra bracing. Describing them as heavy-duty is an understatement. All main frame members are 3-3/4" x 7-1/2" structural aluminum tubing with a .345" wall thickness. Tubing for the lift arm uprights is a full 3/8" thick. Models are equipped with 3-1/2" sq. x 48" long leveling legs and fully adjustable aluminum/rubber bunks. Lift height is 77-1/2". With optional bracing and leg kits, these lifts can be used in water up to 10' deep. Don't be misled by manufacturers offering warranties longer than the number of years they've been in business. Hewitt has been designing and building lifts for over 40 years, and we do it right. Wherever you look, you'll see unsurpassed quality and durability in Hewitt Hydraulic Lifts.
NARROW PONTOON
The Best Way to Lift a Pontoon
Hewitt's narrow pontoon lifts easily raise and lower even the longest pontoon boats. Full-length beams are positioned between the pontoons, not beneath them, which evenly distributes weight to the boat's deck and eliminates any risk of damage to the pontoons. Available in three standard sizes – 2000 lb with 20' length, 2400 lb with 24' length and 3000 lb with 28' length. Built to the same high standards of durability that are a trademark of all Hewitt lifts.
JET SKI LIFT
Make It Easy on Yourself
Dragging your jet ski or small boat across a rocky shore can ruin your hull and your back. Raise and lower your jet ski or light craft without strain or damage with Hewitt's jet ski lifts. Made as a single or a double jet ski lift, capacities range from 1150 lbs to 1800 lbs, and all models offer the benefits of all-aluminum construction – lightweight, high strength and rust-free corrosion resistance. Standard features include horizontal crossbar reinforcement, self-braking winches with enclosed gears, durable acetal Delrin pulleys with stainless steel cable and adjustable bunks. Ideal lifts for popular jet ski brands like Seadoo, Waverunner, Polaris, Kawasaki, and more.
PROTEUS LIFT
Clean Design with Powerful Performance
The Proteus Lift revolutionizes boat lifts for constant level lakes, addressing common issues associated with on-water boat storage. This low-profile hydraulic lift has a strong, modular design. No more bulky equipment that interferes with the overall appeal of the dock. Durable beam construction adjusts to various boat weights and eliminates water and wind movement. Adjustable mounting sockets are easily installed into wooden or metal columns at the perfect depth. The weight of your boat may vary from end to end, but the Proteus Lift ensures a level lift that is flush with your dock for easy boarding. Each modular beam solidly supports 3500 lbs and can easily be added or removed to accommodate various boats.

BOAT RAIL SYSTEM
Make Your Boat Come to You
Hewitt's pontoon and boat rail system, called the roll-a-rail, is a convenient way to fully protect boats, pontoons and even float planes from water and weather damage. The boat rail system makes it easy to move your boat or pontoon to and from the water. This also allows for easy inspection and simplifies periodic maintenance or repairs. Roll-A-Rail is built to Hewitt's exacting standards and constructed from corrosion-resistant structural aluminum. Available in a 4500 lb model or a 6500 lb model that features heavier gauge stainless steel cable and an extra heavy-duty trolley. Electric motor brake for steep inclines comes standard on 6500 lb model.
SLIDE-N-GO
Get on Track with a Portable Small Craft Lift
Free up dock space and protect the hull of your small boat or PWC with this easy-to-assemble rail lift. Slide-N-Go sets up almost anywhere in minutes and is as simple as its name. Slide your watercraft down the non-scratch plastic glides and crank it back up in seconds. If you need extra length, the basic model can be quickly expanded with an add-on track extension. Plus, a sufficient amount of cable strap is included with the winch to accommodate the use of track extensions.

BOAT PORT
Floating Lifts, a Deep Water Solution
The perfect companion for floating docks, floating lifts are ideal for deep water applications but can be used in as little as 4' to 8' of water (dependant on lift size). BoatPort lifts may be installed on almost any structurally sound aluminum, steel or wood floating dock that has an "L" or "U"-shaped configuration where there is at least one walkway finger or pier extending down the side of the boat. Lift operation requires access to a 115V AC receptacle. Optionally, a small portable generator or 24V battery may be used to power the pump lift. BoatPort lifts can also be installed on stationary dock provided water levels do not rise or fall more than a total of 16".
LARGE SLX WAVEPORT
Convenience and Ease
SLX 10 Large Wave Ports with a modular design for boats up to 30′ in length. These large self-leveling floating ports fully distributes vessel weight over the full span, providing exceptional lift and buoyancy (up to 8,000 Lbs. with no air assistance). The three modular designs allows you to expand your SLX10 port length infinitely for longer vessels.  These large ports feature adjustable bunks to match any keel design (keeping the vessel square on the port) and heavy duty keel rollers that make boarding and off-boarding simple and smooth.

SMALL SLX & EVO WAVEPORTS
Convenience and Ease
Wave Port SLX5 (5' wide) and SLX6 (6' wide) are 12.8' in length and constructed of thick, rugged, foam-filled polyethylene. These unsinkable ports utilize a proprietary foaming process which increases buoyancy and structural integrity. Molded mounting pockets in all four corners allow for numerous anchoring possibilities. Both ports accommodate any size personal watercraft and include a removable bow stop with tie-down ring and adjustable, polyurethane-overlaid wheels which can be strategically placed in the port bed to evenly distribute weight and aid in the loading/unloading process. Both models come in a Pebble Beach textured finish designed to match the Wave Dock system.